YouTube is undoubtedly the best site for posting videos on the Internet. However, when we want immediate access to a particular video without relying on a network connection, it is worth downloading the video to our computer or mobile phone. There are several websites on the Internet that offer this type of service and work very well for computers, but they owe a little when we try to use them by the cell phone. The KeepVid Android is a free application that lets you download YouTube videos to your mobile, and other functions. Mr. Google does not authorize the app to download the youtube video from the app store there in google play and to install Keepvid, you should download it on: http://download.keepvid.com/keepvid-android.apk .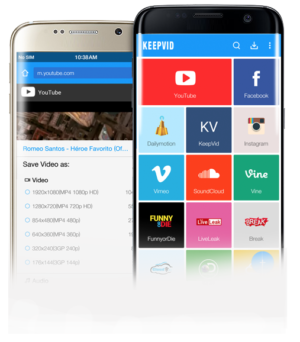 The main features of KeepVid Android are:
Download YouTube to MP3 – Download high quality YouTube videos to MP3 directly. This allows you to get the music you want without compromising on audio quality. Use KeepVid's built-in audio / video playback application and enjoy your downloaded music directly on your Android device without opening another media player .
Easy sharing of downloaded files – Once the files are downloaded on the phone, they can be shared easily on various social networks (Facebook, WhatsApp etc). Note that they can be transferred via email, stored in Google Drive, and so on.
Download the files with just the link – Just know the link to the video so that it can be downloaded by the application.
Multitasking – Allows you to download multiple videos at the same time, reducing the total download time because you do not have to wait for one video to download to start downloading the other.
Browser and in-app search – No need to close the app to download a video. Use the built-in browser to go to the site you want. If you do not know the link to the video, use the KeepVid search engine.
The use of the program is quite simple and we can access videos from more than 28 different sites. The interface is simple and elegant. Excellent free option for mobile phones running Android. Anyone who wants to use the website for online conversion simply access: http://keepvid.com/sites/download-youtube-video.html .
Summing up:
Pros
Supports a wide range of high-quality videos
Users can access videos from 28 different sites
Allows you to download multiple videos simultaneously.
Fast download speeds
It's free
Easy to use
Against
Not available on Google Play (because Google blocks apps of this type).