or a long time, Internet Explorer reigned as an absolute browser, since it came as the default browser for the most commonly used operating system worldwide.
This story has changed a lot over the years with the arrival of numerous solutions. Some applications have worked very well, such as Firefox, Chrome and Opera .
Today, the scenario is very different and Google software has many fans who defend the product tooth and nail. The Mozilla browser also has its share of fans, who do not give up the freedom offered.
Internet Explorer has seen its popularity fall drastically through a series of problems – and it is no coincidence that Microsoft has developed the Edge. And in the midst of these giants, the Opera struggles to achieve a prominent position. It does not have a large portion of users like competitors, but it is already famous and loved by many.
However, did you know that there are more options? In Baixaki, we test many browsers and that's why we've decided to show you a few that are tired of the sameness.
1. Citrio : for those who do not want to drop Chrome
Citrio is a relative of Chrome, who leverages much of the working code and look of the Google product. Because of this, it has Google account login and supports apps.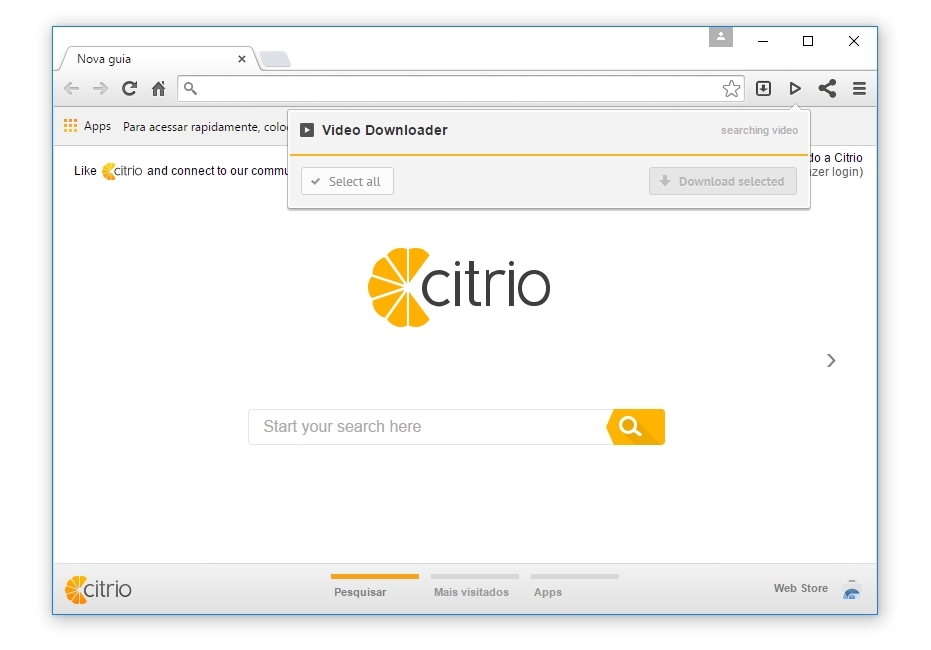 Click here  to download Citrio.
It is worth noting that Citrio has a simple Proxy configuration system that makes life easier for those who use this type of functionality. According to the Baixaki tests, it is very fast, takes up little RAM and even comes with an improved download manager, which can even download torrents.
2. Vivaldi : Chromium with Opera face
Developed by John von Tetzchner, co-founder and former CEO of Opera, Vivaldi is based on Chromium. The look, however, is similar to that of Opera, as well as some functions. Smart, it accepts actions through gestures with the mouse and has several features.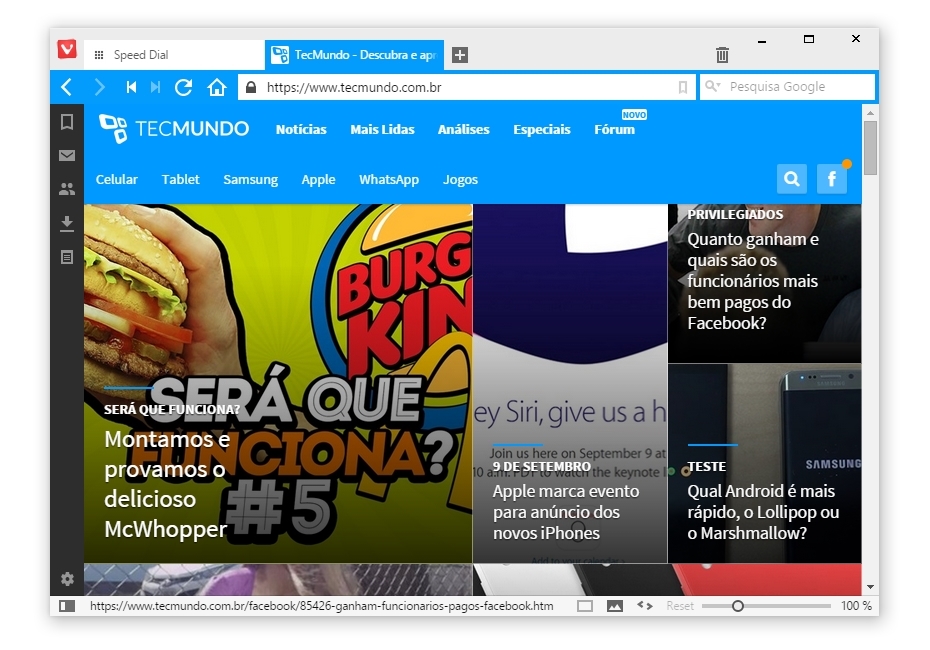 Click here  to download Vivaldi.
It changes the color of each tab according to the site, groups multiple pages into a single tab, brings the Speed ​​Dial page and has a toolbar that gives access to the contact list, email and other features. Vivaldi is really innovative!
For those who are a fan of Firefox and want a lighter browser, Pale Moon may be the perfect choice. It is built from the source code of Mozilla Firefox, but maintains the old look of Fox and eliminates little used resources to release RAM.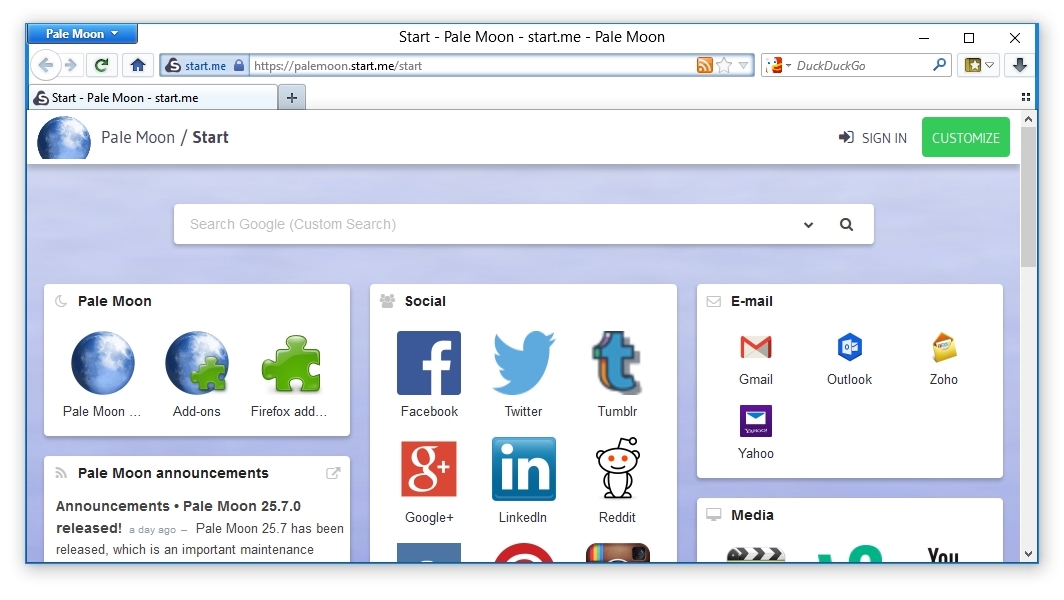 Click here  to download Pale Moon.
This browser does not support ActiveX scripting, has no accessibility options, and does not have parental controls. Although this limits the software, it achieves better results in terms of performance. Although simpler, Pale Moon still accepts extensions.
4. UC Browser : Two engines and many features
UC Browser was born in the cell phones, but gained space in Windows and today has many followers. Thinking about the compatibility issue, this browser will mix two rendering engines. Basically, this means that you have the best of Chrome and Internet Explorer in a single application.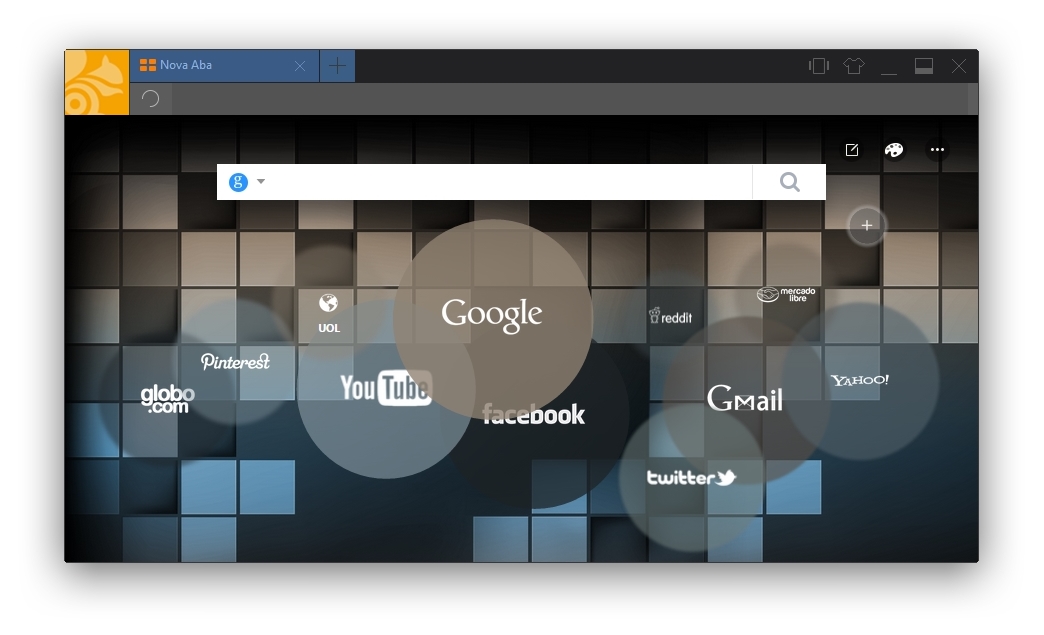 Click here  to download the UC Browser.
Although it looks like a gambiarra, the UC Browser is very well resolved with regard to operation and interface. Packed with smart options, the program offers you the ability to always start in anonymous mode (preventing eavesdroppers from knowing where you went), preview images without clicking on them and use extensions.
Midori has appeared on Linux, but has been gaining fans in Windows. With WebKit engine, it loads pages with great speed. The clean interface and the lightness also help a lot, being a great differential of the product.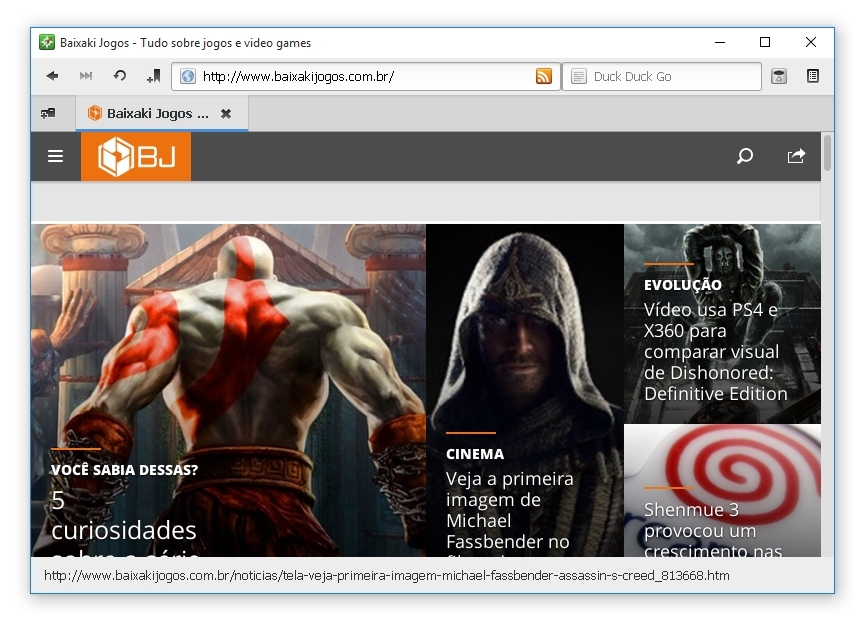 Click here  to download Midori.
It already comes with grammar corrector and with a download manager that promises even faster transfers. With full compatibility with HTML5 and applications, Midori owes nothing to competitors and is a really different alternative.
6. SlimBoat : who sees face does not see performance
Speaking of lightness and speed, SlimBoat is a champion in speed thanks to the WebKit engine. The interface is possibly the simplest of all, remembering the beginnings of some applications. Certainly, it's a good program for modest computers.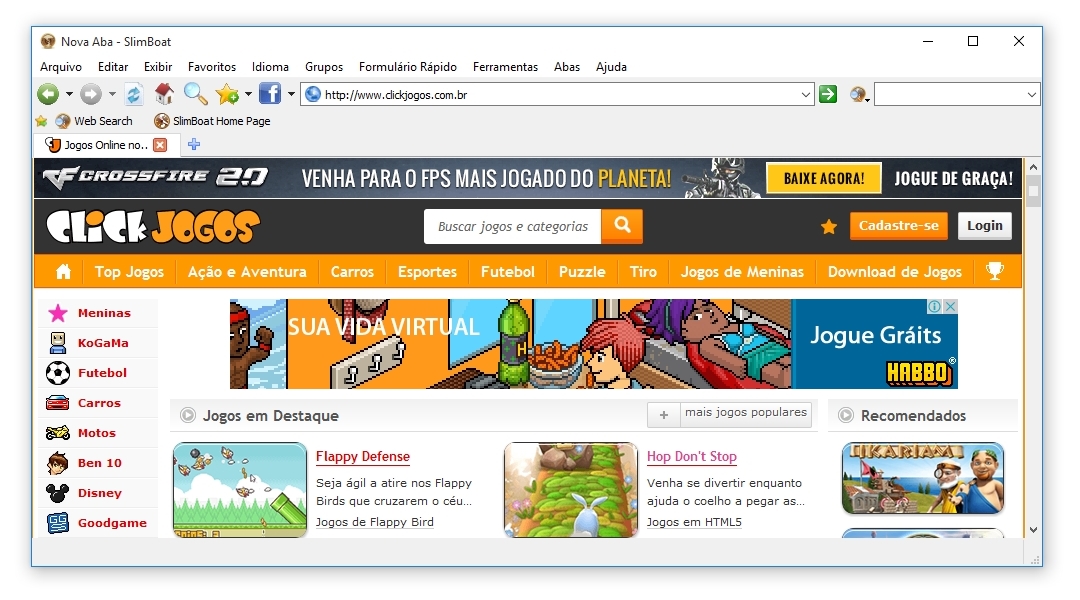 Click here  to download SlimBoat.
This, however, does not mean much as it comes with extensions to connect with social networks and manage downloads. If you do not care for looks, this is a good browser, possibly one of the fastest.
Maxthon is another browser that succeeds in smartphones and comes with many features to PCs. The word Cloud in the name of this browser is not by chance: it really focuses on synchronization in the cloud, so much so that it has its own login scheme for you have quick access to your favorites on any device.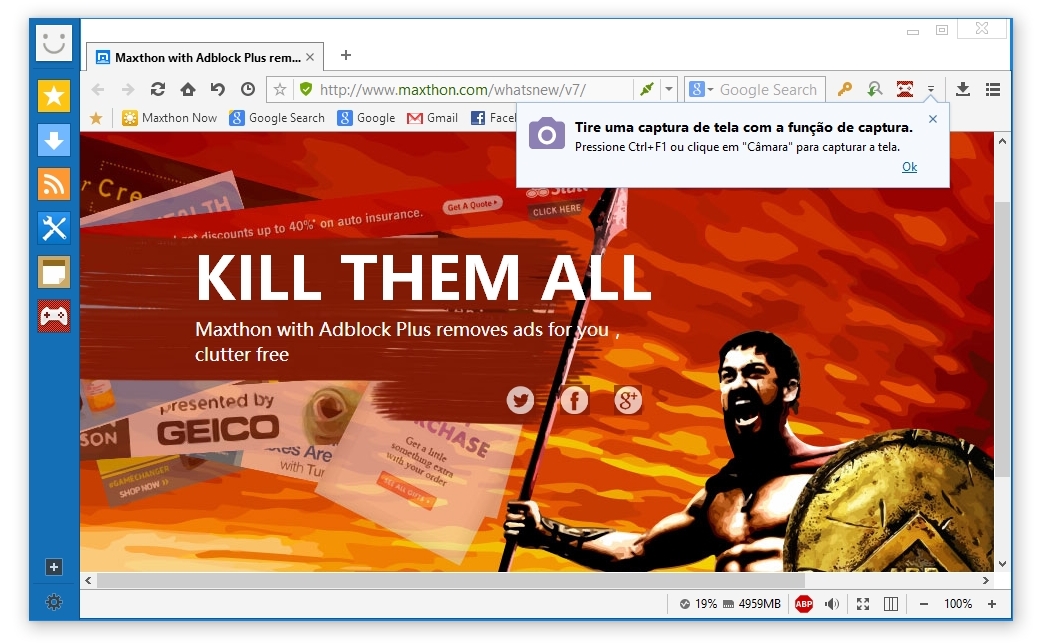 Click here  to download Maxthon.
Besides this advantage, this application already comes with Adblock Plus (ideal for anyone who wants to be free of advertisements) and an extension to monitor machine performance. The interface is beautiful and comes with a sidebar with quick shortcuts.
For those who like to download videos, Torch Browser is one of the best options. Because it is derived from Google Chrome, this browser also accepts Google account login and add-ins.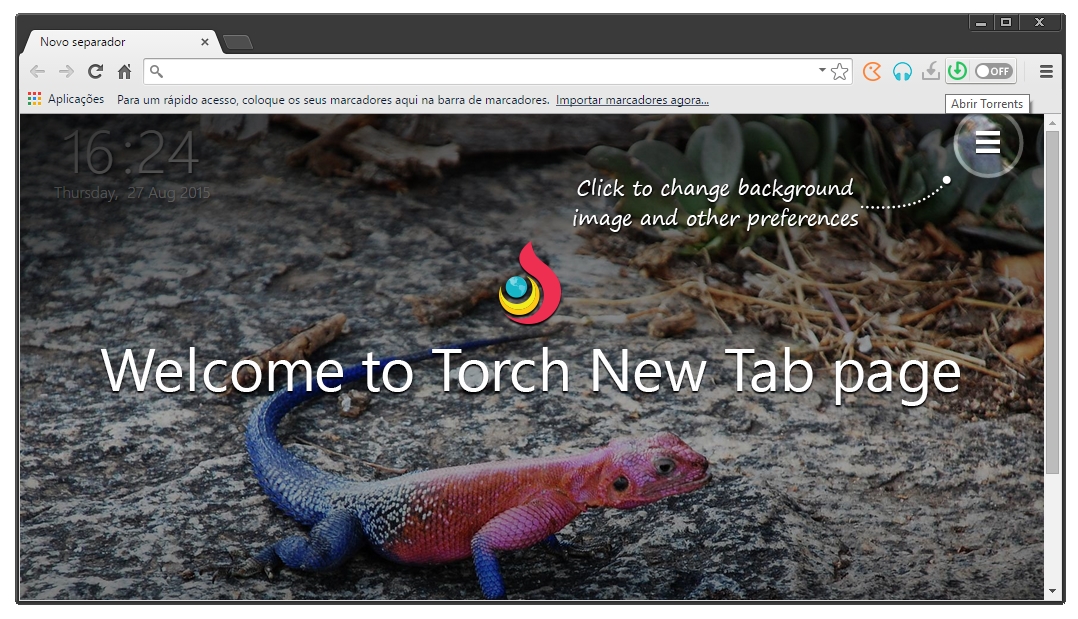 Click here  to download Torch.
It features a special download manager, a player to play songs and videos, games center and more. As it already comes with some extensions, it is possible that it takes up more RAM, but it is worth testing and checking the differentials.
The Avant Browser is not very pretty, but it has a sea of ​​options. With it, you can load the pages with the engine of Firefox, Chrome or Internet Explorer.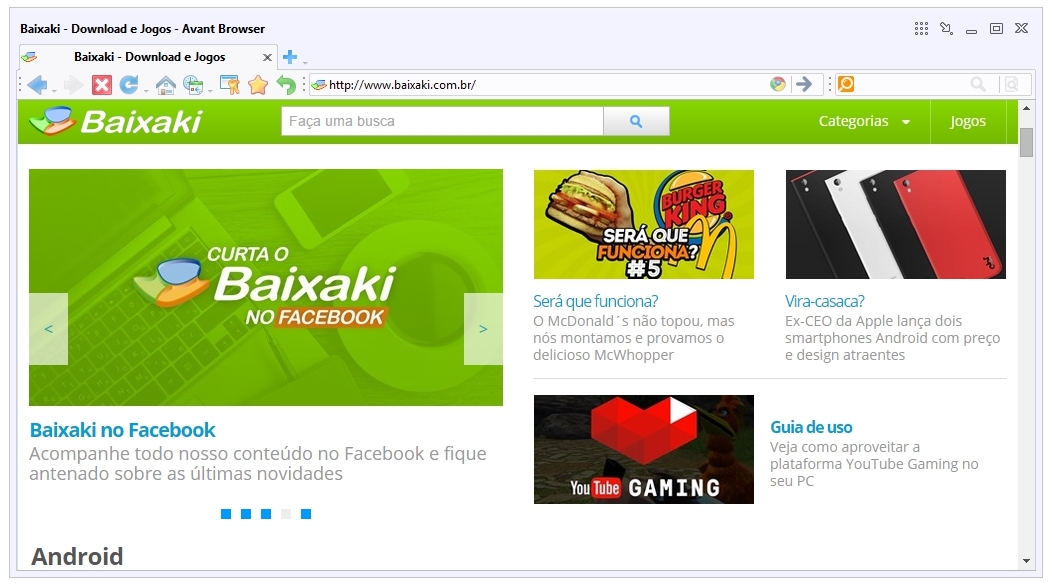 Click here  to download Avant.
It has tools for disabling java items, disabling image loading, and more. Certainly, for those who have a limited internet or want to avoid overloaded websites, this software can help with your Swiss Army Knife.
10. Aurora : it's good, it's beautiful and it's from Brazil!
To conclude, our recommendation is the Aurora. This Brazilian browser already comes with Adblock Plus, a price comparator that works automatically, option to watch your favorite videos while browsing, image magnifying glass that works on Facebook and automatic translator.
Click here  to download Aurora.
It even has quick icons to put the audio of the sites on mute and open the download manager directly from the status bar. A very fast program that takes up little RAM and works very well. Recommended by the Baixaki team!
What is your favorite browser?
Among so many browsers, the ones we have listed above are some of the most promising and offer good differentiators. Some are very similar to Chrome and Firefox, but they are good choices so people do not get lost amid such different interfaces.
Now, we'd like to know what your favorite browser is among the ones we've listed in this article. Take advantage of the comments space to tell us which app you usually use.