The rumor last week is confirmed! Amazon's Brazilian store  began at the turn of Tuesday to Wednesday (18) to sell electronics in Brazil.
Previously, the Amazon.com site sold only physical or digital books, in addition to eReader devices in the Kindle family. Recently, it also  began accepting third-party sales through the Marketplace system.
The electronics section is already visible on the homepage and separated into several categories: Cellular; TV and Video; Cameras and Photo; Portable Audio and Video; Accessories; Computers; and Games and Cosoles. You can make purchases up to 10 times without interest. Click here to access it .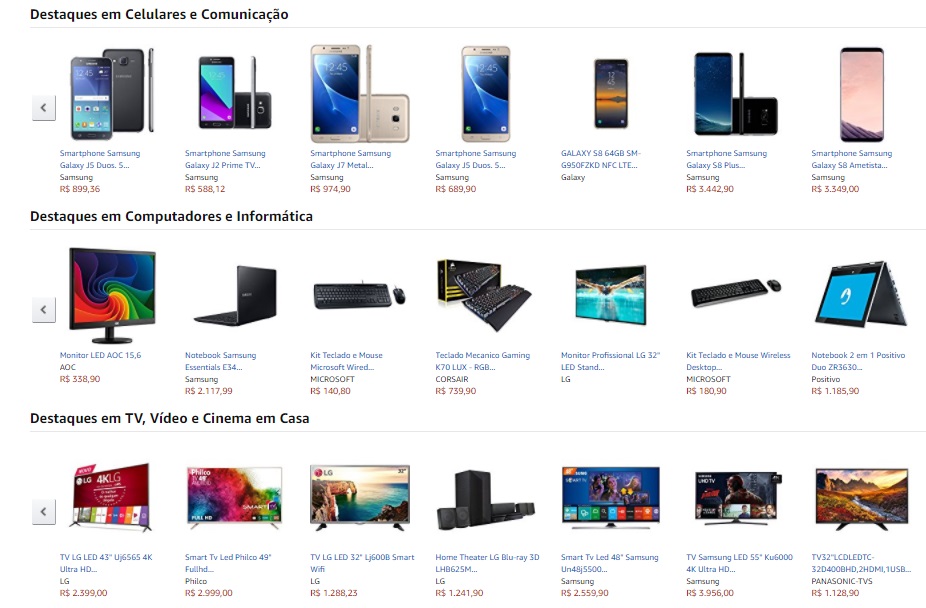 Navigation can also be done by brand, and there you can see the presence of consecrated manufacturers and that are in various areas of the industry – Acer , ASUS , Dell , Lenovo , Motorola ,  Samsung and even  Apple and Nintendo .
It is too early to define precisely whether prices will be competitive, more expensive or cheaper than rivals. However, it is worth remembering that the company tends to be quite aggressive in discounts and makes constant promotions in the books sector. This coupled with the well-structured distribution scheme and the organized marketplace have already made bookstores until they turn against the company . Online Sales: What is the difference between e-commerce and marketplace? Watch with Sponsored Tray
…
Did you like the new Amazon store? While the first few promotions do not pop, enjoy these discount coupons for the Books and Kindles section!